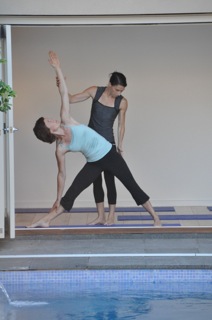 Yogabean wishes to uphold the highest quality of standards when teaching yoga to kids and young adults; therefore it is our mission to do all we can to provide a supportive, solid and consistent training structure, so you as an individual feel comfortable, skilled and ready to qualify as a senior Yogabean teacher.
Our mission at Yogabean is to deliver yoga to schools. Ideally we aim to get yoga included in the school curriculum.
We are committed to building a team of authentic yoga teachers who can then share this knowledge with the children and young adults of Yogabean and Next Gen Yoga.
The intent of the internship process is for you to get to know how Yogabean operates as a company.  The Yogabean Philosophy and Code of Practice underpins the way we work, practice and live life!
There are a variety of entry paths into Yogabean. Ideally you have a yoga qualification already and a registered kids yoga teaching qualification (contact Yoga Australia for accredited children's yoga courses).  We understand that you may be along the qualification path or interested in getting qualified, and we support that process.  
The Yogabean Internship Program follows the Observe, Assist, Teach model. This allows you to build on your teaching experience while you complete your yoga studies.